Bridal Lingerie
Bridal Lingerie will make sure you look your sexiest on your wedding night
With your wedding day being a very special day. At some point of the day your bridal lingerie will show itself to be a reflection of your sense of style. On your wedding day you'll be on your feet all day with cameras flashing in just about every direction, photos taken by family, friends and loved ones. It's essential that you choose lingerie you're comfortable in.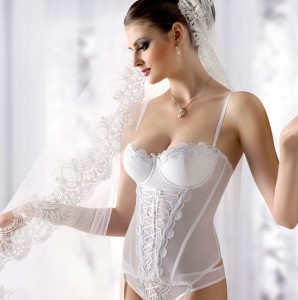 If you're the type of woman that likes corsets a merrywidow or basque may not be the best undergarment for you. For those that have never worn thongs, today isn't the day to experiment with them. Regardless of what lingerie you decide on wearing, do make sure it works for you.
Do try any lingerie you're considering to wear on your wedding day.
As obvious as it may sound this precaution can't be stressed enough. It could turn your most special day into a last minute nightmare if you were to find out that it can't fit under the dress. Do take the time to purchase your dress first and then take it with you when buying your lingerie, if not at least be sure the retailer selling the lingerie has a flexible return or exchange policy.
What lingerie goes with your dress?
Many times the dressmaker will have a guide or suggestions on what kind of lingerie can be worn with their garment. Sticking to their notice would give the best appearance when worn. Knowing important gown details like if the cups are built in or if it has boning, is it slinky satin and bias cut will strongly influence the type of lingerie you purchase.
Why you shouldn't wear a corset under your wedding dress
Although many women mention they like to wear wasp waisted corsets on their wedding day, it's generally discouraged as it will be extremely uncomfortable to wear if you didn't already break it in, not only that but there is a chance that it may not fit under the dress you intend on wearing. Instead of a corset investing in good shape-wear under your dress will allow you to breathe easy and dance with ease.
Don't wait until the last minute to buy your wedding lingerie
Give yourself enough time to buy your wedding gown and find the perfect lingerie to match, keep in mind that their may be alterations to your dress and even weight loss or gain. There is nothing more stressful than finding out that it doesn't fit at the last minute. Prepare as best you can by buying things ahead of time.
Be the first to comment