Dressing for The Season
As the temperature rises we shed our layers and reveal what has been concealed all winter long. A quick cheat sheet for dressing as the seasons change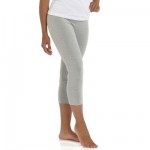 SLIM PANTS
While Capri pants are the hot news of the season, the classic trouser is still a basic for most women in their wardrobe. New styles include cropped pants in wider and looser silhouettes. Khakis, with or without cargo pockets, are still fashion favorites. And there are always jeans for casual days. T-shirts are an easy way to dress down any of these pants. The popular sweater twin set is another alternative.
But when it comes to dressing up your basic pants, choose tops that add a colorful pop. It's one of the fastest ways to update your wardrobe. Bright pinks, corals, purples and blues are your best bets, and you can never go wrong with white. A pink silk taffeta big shirt teamed with white Capri pants is tres chic.
But details can make all the difference in dressing up a plain pair of pants. Experiment with your cardigan sweaters and shells. Mix and match. Layer a soft cardigan over a scoop-neck tank from the lingerie department for an evening look. Wear a sheer shirt jacket over a knit shell; or simply take the cardigan sweater and wrap it around your shoulders for a casual evening out.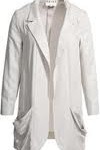 THE RELAXED JACKET
Taking a cue from sporty active wear, fashion designers are giving casual weekend clothes more and more fashion functionality. The newest jackets can be cinched, zipped or simply pulled on. Sports-inspired features like drawstrings, velcro and hoods look at-ease outdoors or in the office. Those classic windbreakers and cargo jackets are looking better than ever with jeans or khakis.
Since the structured "power" suit has lost much of its pow, the soft jackets are more important than ever. From shorter, boxier silhouettes to longer, knee-length toppers, jackets get their punch with the use of interesting fabrics like sheer gauze and stretch wool. Instead of a cardigan, look for a zippered jacket to dress up your work skirt; for evening, opt for an airier gauzy shirt jacket.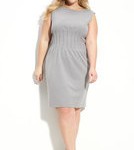 THE SIMPLE SHEATH
The sleeveless sheath may be one f the easiest ways ever to get dressed this season. Just slip it over your head, zip it up and go. While prints are popular this season, keep it simple and small in scale. When in doubt, choose a solid color for more fashion mileage.
Dress a sheath down with a cardigan sweater wrapped around your shoulders; dress it up with a longer silk jacket, especially on cool evenings and for air-conditioned offices. For other dressed-up occasions, try wearing a "shrug" jacket or lightweight scarf or cape to keep bare arms warm. And of course, accessories go a long way in achieving casual elegance. Soft, molded flats and mid-heels slides inspire casual comfort; steel-toed stilettos step out for dressier occasions. There are also lots of bold bags out there choose one for daytime and one for evening.
Be the first to comment