Hot Fashion Tips - Summer Season
Summer style tips and you will find trendy styles for the spring and summer seasons
First there were dress-down Fridays. Then there were dress-up Fridays. Now look for dressed up and casual to be on the agenda for every day (and evening) of the week. There's a new casual chic that combines the better of two fashion worlds - comfort and elegance.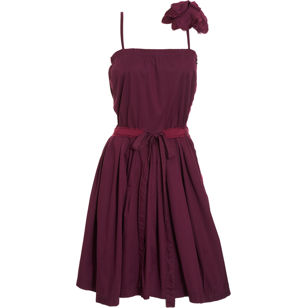 You can all ease up this season and cross the line between dressed up and going casual. It's more about "item" dressing. It's a camisole dress with a beautifully tailored coat; an embroidered shell with flowing pants; a twin set embellished with bugle beads and paired with a long skirt. It's the way most women dress now - combining something fanciful with something basic. You put it all together one item at a time, piece by piece.
So you get the idea. Most of us shop for that one great item every time we walk into a store. We just need to know how to put it all together. Let's start with the basics and then you can add those special pieces to your shopping list.
This season, the core essentials are easy to mix and match - the relaxed jacket, the slim pant, the slit skirt and the simple sheath. In black, navy, khaki or white, you'll find these pieces are classics that will work for years in your wardrobe - dressed up or dressed down.
SKIRTS
Of course, there are always variations on a basic theme. The skirt this year goes from long and full to slim mid-calf and just below-the-knee lengths - many with slits for more ease of movement. Dressed down in sporty techno fabrics with cargo pockets or drawstrings, the skirt takes on casual chic. In stretchy knits or light, airy organzas, skirts can do weekend duty or go out for an evening on the town. Even beaded and embroidered skirts are doing uptown and downtown gigs.
So what do you add to that skirt that you've had forever or to that new one you just bought last weekend? For casual days, the boat neck T-shirt is key this season. In stretch cotton or jersey, it's simple and chic with any skirt; the three-quarter sleeve cotton blouse is another option for dressed-down style.
And if you want to glam up a low-key skirt, try adding a knit top. In strapless halters, bandeaus or tube tops, these items stretch the possibilities of a skirt that is chic and simple. If your skirt has something more going for it - subtle embroidery, panel pleats, ruffled scallops, pastel leather, beads or layers of sheer organza - then a simple knit tank or bandeau can balance the casual and play up the elegance. And for the ultimate dress-up affair, swirl your skirt in ball gown style and top off with a casual knit turtleneck or cardigan twin set. Taffeta with knit is it.
Be the first to comment