Styles of Women's Swimsuits
The styles of womens' swimwear have change so much over the years. There was once a time when most swimwear for women covered the body completely. Fast forward to now and we see the opposie as the current trend. Less is more and little is left to the imagination.
Bandeau Swimsuit: This suit can be both one or two piece. Bandeau is a strapless design. Usually these suits have detachable straps that you can attach as a halter, spaghetti or criss cross style
Bikini / Two piece Swimsuits: These popular suits expose your midsection, a large selection of designs are available in this style of swimsuit varying in coverage.
Classic Bikini: Also a womens favorite, with this style of bikini the top has the appearance of a bra, some even have underwire support. The classic bikini provides you with complete coverage over the buttocks and groin.
String Bikini: Scantier and more revealing than a traditional bikini. It gets its name from the string characteristics of its design. Consisting of two triangular formed pieces covering the chest. These pieces are connected with strings. The bottom piece is usually also a triangular piece covering the groin area. Strings usually hold this in place also. It is not generally necessary that the string bikini be two pieces, it sometimes can be just one piece. They also can be either tied or continuous.
Tankini: Popular for the past few years, this twist on the classic bikini is a two piece suit where instead of the bikini top a tank top is used. A great choice for women that don't want to reveal their stomach.
Finding A Swimsuit For Your Body Type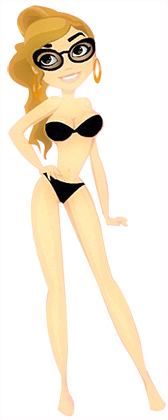 Are you one of those women that hate shopping for swimwear?
We can help, the biggest complaint we hear from women is they can't get the tops to fit.
We offer swim wear that can fit most and our cup sizes go up to DDD.
So if you're looking for a suit that will hold it all in, you've found the right spot.
Every woman's body is different and just about every woman in America hates something on her body. So finding a swimsuit that fits you just right can be a challenge, try some of these quick tips.
If you have a small bust
Aim for swimsuit with a padded bra; preferably with a decorative trim or bright pattern.
If you have a large and full bust
Look for a swimsuit with wide straps and more coverage around the bust area, small prints and solid colors.
If you have a larger waistline
Some women prefer to wear a one piece swimsuit or tankini tops and skirted bottoms in solid dark colors.
Instead of focusing on your flaws that people may not even notice or filling your mind with negative thoughts of how you look. Pick a swimsuit that will enhance your positive features and be kind to yourself.
Swimsuit Myths
Myth: Never wear a white bathing suit.

Fact: A white suit in a textured fabric with a thick nude lining will block any show-through.
Myth: The more coverage, the better.

Fact: Extra fabric can emphasize the thing you want to hide. Boy shorts, for example, can squeeze and exaggerate excess flesh, whereas a string bikini adjusts to lay flat on the skin.
Myth: Wear black to look slimmer.

Fact: Navy, plum, brown, and dark green do the trick, too. Vertical and diagonal stripes and tiny prints can also make the body look leaner.
Myth: With swimwear, buy the same size as you do in clothing.

Fact: Swimsuits are typically sized smaller than clothes because they are meant to fit snugly. You may have to go up a size or two, especially with brands targeted to juniors, such as Roxy.
source: realsimple.com