Cute Outfits on a Budget
Fashionable Clothes On A Budget For Moms and Other Women On A Budget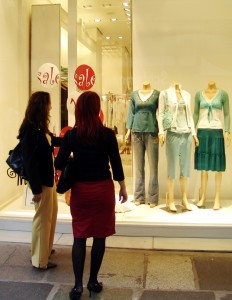 Today I'd like to begin to share some of my strategies for putting together a clothes outfit or an entire chic wardrobe on a budget - there's more to it than just shopping the discounted clothes on clearance racks. Retail clearance sales, discount department stores & outlet malls, resale & consignment clothing boutiques, vintage clothing stores, and your local Target - these are all important to your quest for a selection of chic clothing items that won't break the bank.
Fashion is a unique expression of each individual - don't be afraid to mix it up by combining pieces from any and all sources, thereby putting your personal flair on each ensemble. First, it is important to invest, as your budget allows, in classic staple pieces that are of high quality, that will not go out of style anytime soon, and that will last you many years.
With these basic pants, jeans, skirts, and jackets, you can pair less expensive finds to freshen up your wardrobe each season. (Notice I included jeans here - don't be afraid to make an investment in a couple of well-fitting pairs of designer jeans - you wear them a lot, don't you?) You can find many of these high quality staple items on sale, but be prepared to pay more than you would for bargain clothes or discounted clothes.
Now for the pursuit of "fashion finds":
Don't be afraid of venturing out of your "shopping zone". In the department stores, browse all departments, including those you normally wouldn't - womens, juniors, designer, etc. You never know when you may find a trendy top in the juniors department to wear with a pair of 7 Dojo jeans from better womens sportswear. Throw on the jacket you scored on sale in designer womens fashions and you've got yourself an outfit.
Be the first to comment